Hallfreda Hotell
Standort: Visby - außerhalb der Stadtmauer
Hotel | Hallfreda Hotell is situated in an idyllic landscape, lies 9 km east from Visby, on one of Gotland's largest properties. The house dates back from the 14th century and is today a newly opened hotel. This hotel blends together a mixture of Italian impre
Both the renovation and the reconstruction of the main building commenced during the autumn of 2008. We have six hotel rooms which are all tastefully furnished with their own charm. All rooms have continental beds with organic bed linen and even the towels are made of organic cotton. A flat TV screen, internet connection and a fully tiled bathroom with WC and shower are installed in the rooms.

The dining room, where breakfast is served, is situated downstairs. When the sun is shining the doors are opened for you to enjoy your breakfast outside in our beautiful garden.

The lounge, where one can just sit and relax, is to be found upstairs. A TV, party games, magazines and books are placed there for your own perusal.

You can stay comfortably in our hotel both with and without a car. Hallfreda lies 9 km east from Visby. Free parking is offered to our guests and also there are good bus connections to Visby and other parts of the island.

Hallfreda is a non-smoking hotel and for everyone's convenience, we allow no pets.

During the high season, Hallfreda Café and Interior boutique are open.
Einrichtungen und Serviceleistungen
Kapazität

Anzahl Etagen: 2

Konferenzräume 1

Renovierungsjahr

Letzte Renovierungsjahr

Einrichtungen

Parkplatz

Besondere Bedürfnisse
Nützliche Informationen
Check-in (nicht vorher)

Check out (später)
"Hallfreda Hotell" mit ähnlichen Alternativen vergleichen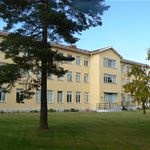 Stay at Tallbackens Vandrarhem, calm and close to nature, about 10 minutes southeast from Visby by car along road 143. We offer more than 20 rooms with 1-8 beds, where some are accomodating to disabled. Pets are allowed in some of the rooms.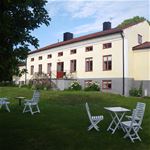 We warmly welcome you to Mallas Stenstugu, a B&B just 12 km from the main town Visby. Your room is ready and waiting, the beds made up with organic cotton bed linen, and the organic breakfast buffet is at your disposal each morning.
Hotell Dalhem is a rural and private accomondation with restaurant and conference facilities, about 15 minutes south of Visby. The hotel's position in the center of Gotland makes it a perfect starting point for excursions throughout the island.